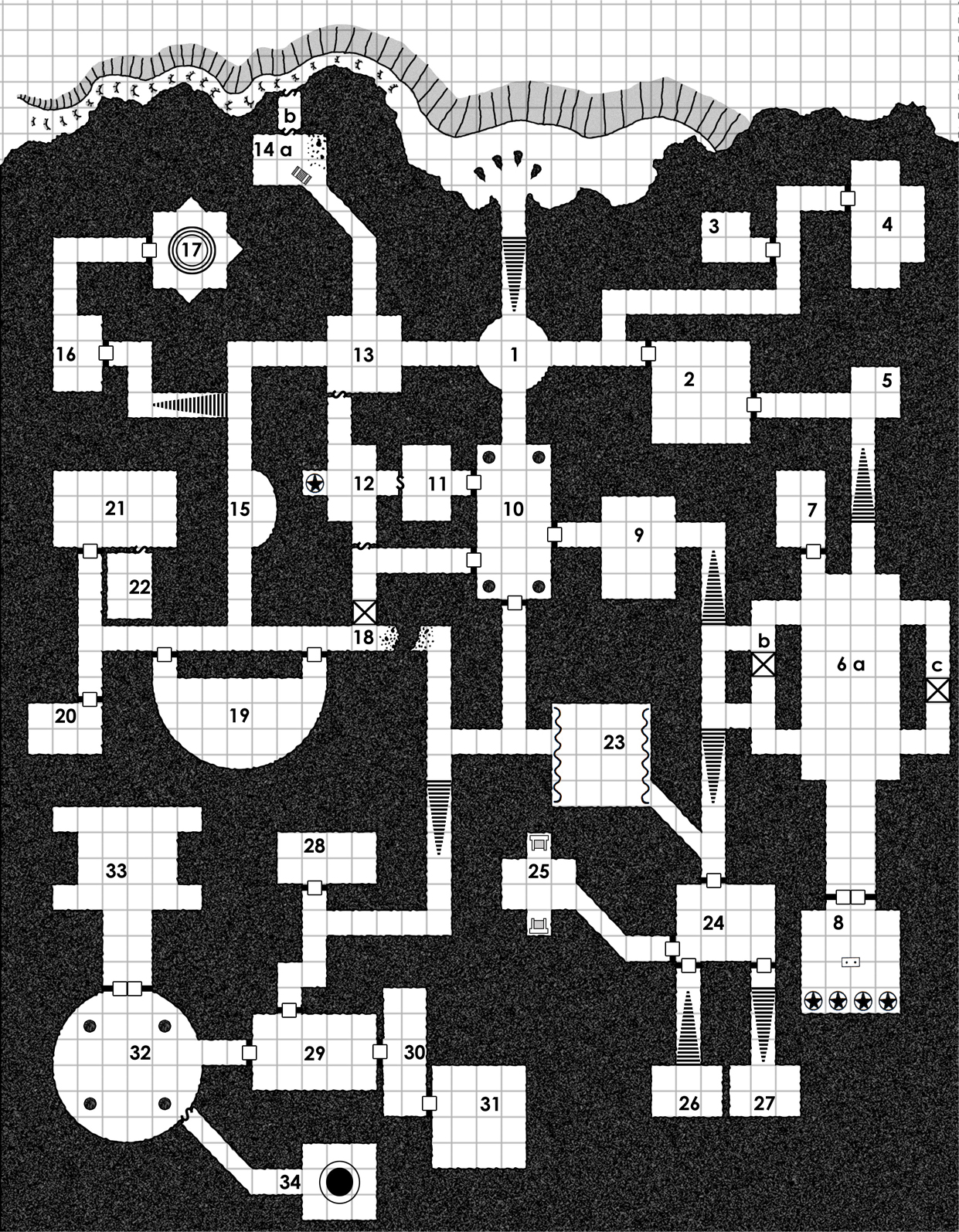 1

Introductory Introductory Note

This is the long post that Blogspot swallowed on me back in February, which dented my enthusiasm for the blog somewhat as it was a lot of work. I still had my original list of monsters but I lost the descriptive text which I've now re-written. I also still had the introduction, which follows. I've added some further design notes at the end too.

This reconstruction is also an experiment in using org-mode for blogging.
2

Introductory Note

So I decided to roll up a quick dungeon using the methods outlined a couple of posts ago, based on Dave Arneson's notes. Since I wanted to post the results here I thought I'd just do a single level and, because I'm really crap at making electronic maps of dungeons, I grabbed one from Tim Hartin's website Paratime Design, where he presents a range of Creative Commons dungeon maps. Specifically, I picked map 100 (see above). Although I wanted a single level, I used the steps in this map to simulate depth. So, the bulk of the map was generated as 1st level, but parts used a 2nd level mix, with secret rooms being treated as an additional level higher than the room/area they led off, so room 34 was generated as a 3rd level room, for example. Generating the monsters took about 15 minutes; treasure took about the same time, although I was using a program for that (sticking to BtB). That gave a very bare but playable map in about 45 minutes. I then went through the rooms trying to come up with a back story which could be reflected in the contents. I had rolled up some tribesmen as the level's "in lair" monster and since it was only a single level I decided to move them outside, as noted below, but I used some of their treasure in the rooms.

I decided that they would be living in a town which was obviously well above their ability to create, and that they would in fact be in the remains of a Greek town, with Greek dress and the remains of Greek culture. That idea (inspired by my current reading material) basically informed everything about the dungeon which became an abandoned temple complex devoted to the chthonic forms of several major Greek deities.

For the dungeon to be fully effective, I think, the Greek gods should NOT be active in the gameworld.

So, scribbling down the ideas for the rooms didn't take much longer but, oh boy, typing it all up for this post took an age. And it's not close to what I'd do if I was trying to publish it.
3

Pre-rolled treasure map

The whole dungeon was sparked by this roll for a treasure map:

"Dungeon treasure: 3000cp, 40000sp located in labyrinth of caves found in/near lair, in a lair with guard"

This treasure was spread throughout the dungeon but in fact the most valuable treasure came from the monsters that were generated as "guards".
4

The Adventure Location
4.1

Wide View

Currently I'm imagining this to be set in a tropical land, perhaps the tropical version of Greenland that I assume lies south of the main Greyhawk map, or some island to the east of the CSIO maps. In any case, if it's set on an island it should be a fairly large one (1600m² or more) with room for other settlements and towns.
4.2

Outside—The City of Cavemen

Tribesmen lair - 100 warriors, walled, 36 slaves, 2 tusks, 95 uncut gems

The village walls are far too big for the village and made of stone; there are no gates and the wall has clearly not been maintained for decades—it is covered in grass and even small trees.

Culturally, the village is a strange mix of hunter-gatherers and philosophy-spouting hoplite warriors with bones through their noses and pieces of bronze plate in their homes. The village used to be a town with walls but the current population occupy only the central portion of the site around the old market, agora, and baths etc. These buildings are all in a fairly poor condition and many of the rooves have holes in them which are either untended or patched up with banana leaves and straw.

Given that this is an adventure for 1st level characters, there's no real need to flesh the tribe members out any further—the point is that they are a formidable group. For higher level characters the villagers could be developed and factions noted. Additionally, this adventure assumes that the tribesmen have something of a taboo about the temple but do not object to the party entering it (see "Hooks", below). For a stronger party, that might change and become part of the challenge.

The chief and his family live in what was a smaller temple of Zeus, and his "throne" is an ornate wooden affair covered with leopard skins and other furs, but mounted on the back are what seem to be two large crossed elephant tusks. Closer inspection will reveal them to be carved into outstretched arms, one with a fist, and the other with the palm extended. These ivory artefacts are worth about 800gp each; 2000gp for the pair.
Military Strength
The tribal leaders consist of the warrior class: 10 3rd level fighters, 3 4th level fighters, a 5th level chief; and the priest class: 1 3rd level druid, 10 4th level druids, 3 6th level druids, and a 8th level druid witchdoctor. Aside from the witchdoctor, these druids are rarely seen in the village and patrol the wilderness looking out for signs of serious monster incursions that could threaten the tribe.
In melee combat, the warriors will use part-bronze plate with large shields (AC 5, AT 3-2) and spears; they can additionally muster 30 shortbowmen. In mass combat, they will use a phalanx formation which allows the large shields to overlap and give each man an AC of 3 (AT 3). If space is limited they will take the opportunity to make two ranks. The tribal spellcasters are druids and will use their spells and abilities to support the phalanx, aiming to counteract opposing spellcasters and protect the right-hand end of the phalanx where the final warrior will not get the formation AC bonus.
The "Crown Jewels"
The chief loves gems of all sorts, and will attempt to claim ownership of any found during the adventure, preferring them to gold and particularly to tarnished silver and green-tinged copper coins.
The gem stash


These gems are secreted somewhere in the chief's quarters in a chest:

10sp Lapis Lazuli, 14sp Rhodochrosite, 1gp Tiger Eye, 2gp Blue Quartz, 3gp Tiger Eye, 4gp Moss Agate, 5gp Rhodochrosite, 5gp Azurite, 5gp Hematite, 5gp Turquoise, 5gp Blue Quartz, 6gp Bonded Agate, 6gp Tiger Eye, 6gp Obsidian, 8gp Blue Quartz, 8gp Hematite, 9gp Obsidian, 9gp Lapis Lazuli, 10gp Obsidian, 10gp Tiger Eye, 10gp Eye Agate, 10gp Malachite, 10gp Obsidian, 10gp Lapis Lazuli, 10gp Azurite, 10gp Turquoise, 10gp Lapis Lazuli, 10gp Tiger Eye, 10gp Obsidian, 10gp Azurite, 10gp Blue Quartz, 10gp Bonded Agate, 10gp Rhodochrosite, 10gp Turquoise, 10gp Malachite, 10gp Lapis Lazuli, 10gp Blue Quartz, 10gp Turquoise, 10gp Hematite, 10gp Lapis Lazuli, 10gp Tiger Eye, 10gp Rhodochrosite, 10gp Hematite, 10gp Blue Quartz, 10gp Bonded Agate, 10gp Tiger Eye, 10gp Moss Agate, 10gp Blue Quartz, 10gp Rhodochrosite, 10gp Turquoise, 10gp Lapis Lazuli, 10gp Eye Agate, 10gp Rhodochrosite, 10gp Bonded Agate, 10gp Moss Agate, 10gp Tiger Eye, 10gp Moss Agate, 10gp Obsidian, 10gp Tiger Eye, 10gp Rhodochrosite, 10gp Lapis Lazuli, 10gp Malachite, 10gp Rhodochrosite, 10gp Hematite, 10gp Eye Agate, 10gp Azurite, 10gp Blue Quartz, 10gp Eye Agate, 10gp Lapis Lazuli, 10gp Obsidian, 10gp Hematite, 12gp Hematite, 12gp Obsidian, 14gp Blue Quartz, 20gp Moss Agate, 20gp Lapis Lazuli, 20gp Tiger Eye, 20gp Azurite, 20gp Azurite, 20gp Rhodochrosite, 20gp Rhodochrosite, 20gp Rhodochrosite

The throne


As well as the ivory arms mentioned above, the throne has these gems stuck to it with tree resin as decoration:

20gp Obsidian, 50gp Chalcedony, 50gp Citrine, 50gp Zircon, 50gp Onyx, 50gp Moonstone, 50gp Chalcedony, 50gp Chrysoprase, 50gp Citrine, 50gp Smoky Quartz, 50gp Sardonyx, 80gp Smoky Quartz
The Druid View
If any of the player characters is a druid, then the witchdoctor will inform them that the temple they are going to explore was once the beachhead of an alien pantheon of gods bent on stealing the tribe's worship away from Nature. While he has no objection to exploration and further destruction of whatever is in there, he expects a report on any signs that these alien deities are still able to use it to access this area.
If the DM has already established the Greek pantheon on their world, the alienness should simply be that those gods had not been worshipped by the tribe before; otherwise it can be made to seem more cosmic as the DM sees fit.
5

Hooks
5.1

The Patron

The characters are hired by a merchant collector of ancient art who has seen some small samples of the Grecian-style carvings in the village. In addition to his art collecting ambitions, the merchant wants to see if there's any trade possibilities with the recently discovered island/land on which the adventure is set.

The party will be carried to the island on board a ship that the merchant provides as guards for his brother who will be negotiating with the tribe (0-level merchant as per DMG p100).

The crew can be generated using the MM entry for buccaneer, with a base crew of 60 men. The captain and officers will not join any expeditions and will remain close to the vessel at all times; they will not sleep ashore unless drunk or captured for some reason. Aside from the crew's personal cash, the ship carries 200gp in gold and a further 500 in gems and 1,000 in goods (furs, weapons, pots, pans etc.) to try to establish some sort of trading arrangement but the main negotiation will be carried out by the patron's brother.

On arrival, the party find that some younger members of the tribe have gone missing and that they represent an opportunity to explore the dungeon without any member of the tribe having to break the local taboo on the place.

If the DM wants to roleplay the journey there will be a chance to recruit crew members as henchmen but in any case there will be a few tribe members (relations of the missing) who will volunteer to join them as well as a few sailors looking for adventure onshore so that any party should be able to get as many "hirelings" and men-at-arms as there are PCs without any difficulty.

If the PCs return to their patron with details of the temple's contents, the merchant will pay them 200gp each in cash and cover their training costs for their next level. He will also act as a purchaser of the treasure they may find. Otherwise, non-gem jewellery will have to be sold for scrap value of 1d6gp each rather than the "book" values given here (they may find another high-paying buyer, of course, but this is likely to create friction with the original patron).
5.2

The Locals

As an alternative, the Patron adventure can be run from the tribe's side on the assumption that the foreign vessel is not there and so the locals have no choice but to mount a substantial search of the dungeon.

Magic users in this setup can be excused as part of a youngish self-taught group who have found some magical texts somewhere in the remains of their village. The leader of this group, and mentor for training purposes, might be only 3rd level, or even just 2nd if the DM allows him to accompany a party as an NPC helper. In the longer term, the players will have to come up with some other source of training.
5.3

The Hunters

A smaller party of slightly higher level characters (3rd at most) might be seeking a bounty on the wolfweres' heads. To make this slightly more challenging, the locals might not have suffered, or realised that they have suffered, losses to the pair and so will not be as co-operative.
5.4

Explorers

A modification of the merchant hook. A new land has been discovered and a merchant interested in opening up trade has offered passage for "only" 10gp per person each way. In fact, the return fare will be 100gp.
6

Design Notes

As mentioned in the introduction, the generation of the monsters was very quick and I've tried to write the rest of the dungeon more or less as if I were making it up as a party explored it at the table. Because of having to redo it after Blogspot ate it, some of that spontaneity has been lost and the text is now somewhere between a "real" adventure and a published module. But, in theory, this could have been generated on the fly during play using just the map.

The hardest part was probably coming up with something for the two thrones marked on the map, which was also the most specific thing marked on the map. As I said in the previous post, this method works best if the map is done last and such problems are avoided by making the features fit what you have invented to explain the monsters.

I'm not a great one for magical traps and puzzles. The "mad archmage" trope is fine once in a while but having lots of magical tricks is not something that I particularly enjoy as a player or a DM; hence there's not much of that sort of thing here.